Heart Healthy Meals
Make heart healthy meals for dinners that are easy to prepare and contain nutritious foods such as olive oil, green vegetables, beans, garlic, salmon, whole grains and lean protein sources. These foods are rich in vitamins and minerals that can lower blood pressure, improve your health and increase your vitality.
These heart healthy meals are approximately 400 calories per serving and contain an optimum balance of good fats, lean protein and complex carbs:
Chicken Stir Fry

Ingredients:
5-6 oz chicken breast
½ head of chopped broccoli
1/2 Sliced Zuchini
4-5 baby tomatoes
½ cup water chestnuts
½ cup celery
½ onion
½ red pepper
2 tsp. olive oil
1 tsp. minced ginger
2 tbsp. low sodium soy sauce
Slice chicken thinly and fry in olive oil for 5 minutes. Add balance of ingredients and stir fry on medium to high heat until vegetables are cooked but still crunchy.
Variations:
Use coconut or sesame oil instead of olive oil if you have it.
Add mushrooms: shitake, cremini, oyster or maitake.
Add fresh bean sprouts at the end, stir fry for 1-2 minutes. Sprouts come from seeds that contain all the elements of life: vitamins, minerals and enzymes. Seeds and sprouts are power houses of nutrition, grow your own and add to recipes for stir frys, salads and sandwich wraps.
Tamari sauce has a lighter taste, I personally prefer it to soy sauce.
Spaghetti Squash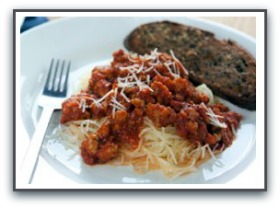 Ingredients:
2 lbs spaghetti squash
8 oz lean ground chicken, turkey or veggie ground meat alternative
1 medium onion diced
¼ cup olives (optional)
1 Cup tomato based pasta sauce
2 tsp. Garlic, fresh and minced
1 tsp. butter
¼ tsp. pepper
1 tsp.oregano
Cut spaghetti squash lengthwise, scrape out seeds and discard. Place ½ squash open side up in baking dish. Sprinkle oregano and garlic evenly over squash, cover with foil and bake for 1 hour and fifteen minutes at 400 degrees F.
Meanwhile, gently cook onions and olives in butter until tender. Add protein and stir until fully cooked. Add tomato based pasta sauce.
When squash is cooked, remove foil and scoop out squash from shell, or take fork and score squash to make spaghetti strings.
Divide sauce and serve over squash, serves 2. Enjoy!
Variations: The 'love of my life' serves spaghetti on steamed cabbage instead of squash. Tastes delicious!
Salmon Bake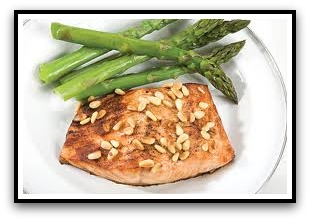 Ingredients:
4 oz raw salmon fillet
1 ½ tsp. balsamic vinegar
1 ½ tsp honey
1 tsp. Dijon mustard
½ tsp sesame oil
1 tbsp. pine nuts
1 cup broccoli
6 asparagus spears
½ sweet potato
Preheat oven to 450 F. Place salmon in foil lined baking dish. Mix vinegar, honey, mustard and oil: pour mixture over salmon and sprinkle with pine nuts. Bake for 10-12 minutes or until fish flakes easily with a fork. Serve with steamed broccoli, asparagus and baked sweet potato. Serves 1.
Variations: Serve with ½ cup cooked brown rice instead of the sweet potato. Exchange vegetables for any of the freedom foods : cauliflower, kale, spinach, zuchini, cabbage, brussel sprouts etc.
Tasty Turkey chili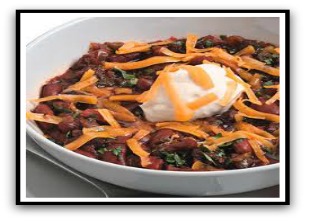 Ingredients:
4 oz lean ground turkey
1 chopped onion
3 cloves chopped garlic - the more the better!
1 tsp. olive oil
½ cup red kidney beans
I cup crushed tomatoes
1 diced red or green pepper
1 tsp. chili powder or to taste.
In a bowl, mix together turkey, chopped onion, garlic and red peppers. Cook mixture in pan with olive oil. Add diced tomato, chili powder and pepper to taste. Combine and heat until cooked. Serves 1.

Variations:
Add a tablespoon of tomato paste or ½ cup of chicken broth.
Add ½ cup diced celery.
Sprinkle with a tablespoon of low fat grated cheese.
Serve with a dollop of low fat sour cream.
Serve on salad greens, crush some blue or wholegrain tortilla chips on top for a taco salad.
Yummy Baked Veggies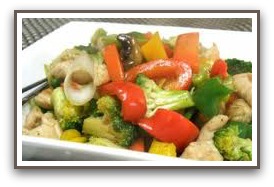 Ingredients:
2 teaspoons olive oil
5 tablespoons water
broccoli
cauliflower
zuchini
mushrooms
½ sweet potato
3-4 whole garlic cloves
Fresh herbs
Dash of Spike (salt alternative, natural seasoning)
Chop veggies into chunks and mix with garlic cloves, olive oil, water, fresh herbs in a baking dish with a lid. Bake at 350 F for 45-50 minutes. Stir veggies after 20 minutes. Serve with 4-5 oz of your choice of lean protein: baked salmon, fish, chicken or turkey.
Baked veggies have an amazing taste of their own. I was first introduced to this recipe 20 years ago when I went on the 'Fit for Life' diet. I have kept many of their eating principles and recipes today.
For another delicious main course meal, try Isabel's Baked Chicken.
Whats Your Favorite Heart Healthy Meal??
Are you a wonderful chef with hidden talents? Share with us the healthy recipe you lOVE to cook! We love photos too.
More Heart Healthy Meals
Click below to see healthy recipe ideas submitted from other visitors to this page...

Mackerel Pate

I love this recipe! Rich in essential fatty acids, low sodium, good protein, an all round amazing and satisfying taste. I love it as a snack or served …
Ratatouille

This is a great side dish that has a wonderful history behind it. Often families would make massive batches of it around the first snow and keep it outside …
Hearty Leek & Sweet Potato Soup with Chicken & Leek delight

This recipe went a long way! I didn't have a whole lot in the fridge so rummaged through my cupboards and came up with this really tasty meal which …
Final thoughts:
We all lead busy lives and sometimes at the end of the day the last thing we want to do is cook heart healthy meals, sometimes it seems simpler to put in a pizza or go out for dinner. However dinner time, can be family time and a great time to 'decompress' from the day's events.

Change into your comfy clothes, crank on the radio to your favorite tunes and have a family member help you prepare. Sometimes the most meaningful conversations happen in the kitchen!
If you've lost the 'zest' to cook, or need your passion for cooking 'reignited'… re-organize your kitchen, paint it a new color, buy a new Mediterranean cookbook (full of heart healthy meals) or get some fancy new pots and pans. The truth is …it is hard to regain your health, lose weight and change your eating habits, unless you are willing to passionately embrace food and the forgotten art of cooking.
Heart healthy meals focus on maximizing your intake of fresh, whole foods that lower blood pressure. These heart healthy meals eliminate the 'bad foods' such as saturated and transfats, white sugar and flour and artificial ingredients.

It is important to always find the freshest most wholesome foods you can. Organic is always a great way to go, if you can.
Diets and magic weight loss pills don't work and never will do, healthy eating does work and always will! If you are looking for a healthy weight loss plan check out my review of The Diet Solution .
Back to top of page: Heart Healthy Meals