Heart Healthy Lunch Recipes that are Quick and Easy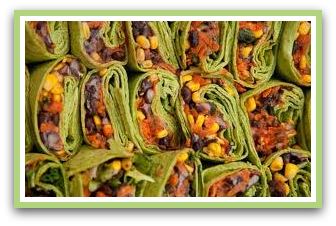 Try a healthy lunch recipe to increase your nutrient intake at lunch time. Heck you may even avoid that mid afternoon slump when all you want to do is nap.
Make your favorite tasty sandwich filling and place it in a whole grain wrap, pita or on some crunchy crisp breads .Try a quick and easy bowl of black bean soup or cheese and broccoli soup. Add a side salad, sliced veggies ,piece of fresh fruit or a yogurt to your lunch and your good to go!
I've used wraps as the example, but you can place these fillings on your choice of grain product.: pita, crisp bread, whole grain bread etc. These make delicious healthy lunch recipes that are easy to make and take no time at all.
A wrap and yogurt or piece of fruit is approximately 400 calories and provides a balance of good fats, complex carbs and lean protein: the perfect ratio to balance blood sugars, lower blood pressure and help you lose weight.
Its a Wrap...

Choose your lean protein:
1 whole egg and 3 egg whites or...
3-4 oz of your choice of lean chicken, turkey, salmon or tuna. Choose your options:Add freedom foods: lettuce, spinach, tomato, onion, celery , sprouts etc.
Add 1oz cheese: low fat cheddar cheese, cream cheese, feta cheese.
Add I tablespoon of low fat mayonnaise, or low fat dressing of your choice, or a teaspoon of pesto, hummus, tzatziki, bean spread or guacomole.
Choose your carb: whole grain pita, wrap, crisp bread or whole grain bread. Remember to get the complex carb choice that is high in fiber such as Ezekiel bread, which dense and chewy. For optimum health avoid white flour products.
Add a 4 oz Greek yogurt or piece of fresh fruit for dessert. Note:Greek yogurt is higher in protein than regular yogurt, I like the plain vanilla flavour. Avoid sweetened yogurts or fruit bottom yogurts that add carbs..
Here are some of my favorite wrap variations:
1) Chicken Ceasar Wrap
4oz chicken, shredded romaine lettuce, sliced tomatoes, teaspoon of parmesan cheese and tablespoon of low fat caesar dressing. Optional: add ¼ fresh mashed avocado.Place ingredients in wrap and enjoy.
2) Chicken Curry Wrap
Mix diced chicken with diced celery and spring onions. Add a tablespoon of sliced almonds, tablespoon of low fat mayonnaise, teaspoon of curry powder and ½ teaspoon of honey (optional). Place mixture in wrap with lettuce leaves and enjoy..
3) Greek Chicken Wrap
4 oz chicken, 1oz crumbled feta cheese, 3 sliced olives, sliced tomatoes, onions. 1 tablespoon of your favorite Greek dressing. Layer ingredients in center of wrap and drizzle with dressing. Add lettuce...wrap and enjoy.
4) Egg Salad Wrap
Use one boiled egg and 3 cooked egg whites, diced celery and onion and I tablespoon of low fat mayonnaise. Add dash of Spike, sea salt, fresh parsley or black pepper to taste. Mix ingredients to make an egg salad and place in wrap with lettuce and tomato. Sometimes I like to add a teaspoon of curry powder to the egg salad for that added kick.
5) Salmon, Mango Wrap
Use 4 oz fresh or tinned salmon, break salmon into small chunks with bones removed. Add tablespoon of mango dressing or low fat mayonnaise and mix with salmon. Dice a whole Mango and ½ red pepper, add 1 teaspoon fresh lime juice. Mix salmon, mango, red pepper, lime juice and add to center of wrap. Top with freedom food options: lettuce, tomato or onion.
6) Tuna Salad Wrap Mix 4 oz or tin of drained tuna, (optional:½ teaspoon cumin), tablespoon of light mayonnaise, diced onion and celery. Place in wrap and add sliced tomatoes and lettuce. Enjoy a vanilla Greek yogurt on the side for dessert. Note:To reduce possible mercury content, select light albacore tuna instead of white tuna.
7) Turkey and Cranberry Wrap.
Dice 4 oz turkey and mix with I tablespoon of dried cranberries, celery and spring onions. Mix with a tablespoon of low fat mayonnaise and add to wrap with romaine lettuce.
Final Thoughts:
Other healthy lunch recipes include: main course salads, soups and even smoothies . It really is easy to have a healthy nutritious lunch every day.
More heart healthy meals... Awesome salads...