10 HEART HEALTHY FOOD SNACKS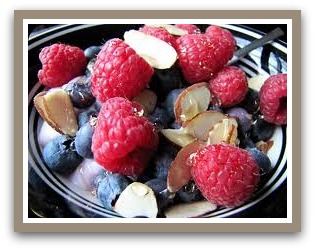 Eating healthy food snacks on a daily basis is an excellent way to get some additional nutrients and heart healthy minerals into your diet. Here are 10 snack ideas which are quick and easy to prepare:
1) Greek yogurt with berries
Add a sprinkle of almonds or walnuts to the yogurt and berries as well as a ½ scoop of vanilla protein powder. Add flax seed instead of the nuts if you like.
2) Low fat cottage cheese and fruit
Add some berries, diced apple or even grapefruit to your cottage cheese and enjoy!
3) Hummus or bean dip and veggies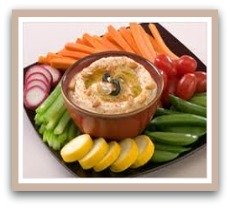 Add some additional garlic to the dip for heart health benefits. Chew some parsley after to stop 'garlic breath'! Experiment with different veggies: cucumber, celery, radish, broccoli, cauliflower, spring onions.
(A local Canadian company called 'Summer Fresh' has some delicious red pepper and garlic hummus, also available in snack packs with flat bread.)
4) Low fat cheese and fruit
'Allegro cheese' has a great selection of healthy low fat hard and cream cheeses, search around to find a good quality low fat cheese that you like and tastes good. Select fruit such as apples, oranges, berries pears, grapes or pineapple.
5)2 High fiber Wasa or Ryvita crackers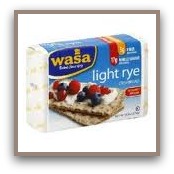 Eat this healthy food snack with light cream cheese, add sliced cucumbers if you like. Alternatively try a light spread of almond butter and have a piece of light cheese on the side.
6) Healthy Trail mix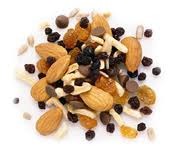 Customize your own trail mix by picking one each of: a seed, a nut and a fruit, from the list below.
Visit your local grocery or health store for more trail mix ideas. Choose high quality ingredients such as unsulphured dried fruit, fresh nuts and seeds.
SEEDS: Pumpkin, sunflower, sesame seeds
NUTS: Almonds, walnuts, cashews, pecans, soy nuts
FRUIT: Dried unsulphured fruit: cranberries, apricots, raisins, coconut flakes
OPTIONAL: High fiber crunch cereal such as Kashi-Go-Lean Original cereal, natural dark chocolate chips (yummy!)
7) Protein bars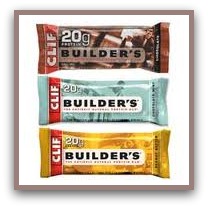 Keep a few protein bars on hand as healthy 'grabbables'. Find them at health food stores or in the natural health section of your grocery store.
Some of my favorite bars, that are healthy food snacks, include: the Luna Protein Bar, Cliff Builder Bar, Kashi Bar and The Simply Bar.

Or...try making your own Almond Butter Protein Bars: (makes 5 bars).
Ingredients:

2 cups oatmeal
1/2 cup sliced almonds
14 cup ground flax seeds
2 tablespoons of lecithin
5 scoops of whey vanilla protein powder
¼ cup almond butter
¼ to ½ cup water
1)Mix together almond butter and water
2)Mix dry ingredients in a large bowl 4)Place saran wrap in bottom of 8" square pan, make sure there is enough saran to wrap over the top
5)Place mixture in pan and press flat
6)Put pan in freezer for an hour and then in the refrigerator before slicing into 5 bars

(Recipe came from Natasha Turners excellent book "The Hormone Diet")
8) Delicious smoothie
See smoothie recipes for ideas. Choose from Basic Berry, Purple Passion, Banana Bread smoothie and lots more.

9) Soynuts Soynuts should be unsalted. Soynuts are excellent for when you are looking for something crunchy.

10) sliced veggies, low fat cheese and almonds (10) This is a simply healthy food snack you can make any day. Enjoy some broccoli, cauliflower, celery, carrots, cucumber and feast on some wonderful heart healthy minerals.

Snack foods to avoid : store bought granola bars, chips, cookies, muffins, candy bars, energy drinks, donuts, bread/toast, peanuts, pretzels, corn chips etc.

Final Thoughts:

Eating frequently, four to five times a day, has been proven to be the best way to increase your metabolism, burn extra calories and keep your blood sugar levels balanced.
Having a healthy food snack every day prevents you from overeating in the evening and keeps your energy levels high throughout the day.
It is important to have a balanced snack with all three of the macronutrients: protein, complex carbs and good fats for optimum nutrition. This will help with weight loss, prevent cravings and balance your blood sugar.
DO NOT buy unhealthy snacks or keep unhealthy munchies in the kitchen. You may have bought them for someone else and thought to yourself...'I won't eat them'. But as soon as you get "stressed" or an emotional situation arises- those cookies, chips and ice cream look mighty good!!

Encourage your family to eat healthier foods, buy nuts, seeds, yogurt, fruits, vegetables and whole grains and have them readily available.
For additional snack ideas, check out these recipes from our partners at ProGrade. I love their chocolate protein powder!


Cookie Swap Cookies
Orange Cranberry Muffins
Delightful Dark Chocolate Chunk Muffins
Protein Banana Walnut Bars
Healthy Pumpkin granola

Health is so necessary to all the duties, as well as the pleasure of life, that the crime of swandering it is equal to the folly." - Samuel Johnson
Back to top of the page: Healthy Food Snacks