Eight Essential Hypertension Supplements You Need to Take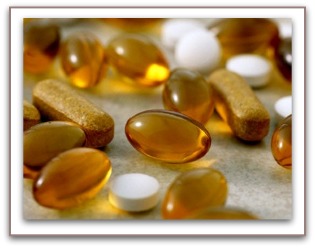 Why take supplements?
Unfortunately the days when we received all our nutrients from our daily diets are long gone.
Today our soil is depleted of minerals, our nutrients are refined and processed and more than 80% of the American population admit that they do not consume anywhere near the five servings of fruits and vegetables that are required for optimal health. In fact nine daily servings of fruits and vegetables are now recommended by the DASH diet.
Increasingly doctors, nutritionists, scientists and the public are realizing that:
" Insufficient vitamin intake is apparently a cause of chronic diseases. Recent evidence has shown that suboptimal levels of vitamins (below standard), even well above those causing deficiency syndromes, are risk factors for chronic diseases such as cardiovascular disease, cancer and osteoporosis."
Quote by researchers Dr robert Fletcher and Dr kathleen Fairfield.
In one study published by the United States Department of Agriculture (USDA) it was reported that most Americans are deficient in one or more essential nutrients:
- 80% consumed less than the RDA* for Vitamin B6
- 75% consumed less than the RDA for magnesium
- 68% consumed less than the RDA for calcium
- 50% consumed less than the RDA for Vitamin A
- 45% consumed less than the RDA for B1
- 45% consumed less than the RDA for C
- 45% consumed less than the RDA for B2, B3 and B12

*RDA = Recommended Daily Allowance
These results confirm my long held belief that the majority of diseases are due to vitamin and mineral deficiencies. Most importantly, authorities are realizing this and the 59% of Americans who now take supplements, are also realizing this.
Isn't it odd that as a population we are overweight... but nutritionally we are starving.
Key Hypertension Supplements:
1) Fish oil. Scientific studies show that fish oil , which contains the beneficial omega 3 essential fatty acids (EFA's)are important for many critical functions in the body including circulation and lowering blood pressure.
Dosage: 1000 milligrams daily or as directed on label.
2) Calcium. Deficiences of the minerals calcium and magnesium are common among the population but particularly amongst those suffering from hypertension and heart disease.
Check to see if you have calcium deficiency symptoms.
Dosage: approx. 800mg milligrams per day or as directed on the label.
3) Magnesium.
Magnesium is needed to to maintain a normal heart rythm and muscular contraction. Taking diuretic medication can increase urinary excretion of both potassium and magnesium and other critical minerals.
Magnesium is an absolutely critical mineral for cardiovascular health, many researchers believe that deficiencies of this mineral are responsible for the epidemic of heart disease.
Symptoms of a lack of magnesium are easily identifiable and include muscle twitches, muscle cramps, insomnia, inability to relax and even cravings for chocolate.
Do you have magnesium deficiency symptoms?
Dosage: approximately 350 milligrams per day or as directed on the label.Some researchers believe that the RDA for magnesium should be closer to 600 milligrams a day particularly if you have hypertension and heart problems.
4) Potassium.
Dosage: approximately 99-500 milligrams a day or as directed on the label.
5) Coenzyme Q 10.
Dosage: 60 milligrams a day or as directed on the label.
6) vitamins A. Research shows that those people with ac high dietary intake of antioxidant vitamins: A, C and E, have a lower than average risk of cardiovascular disease.
Dosage: 5-10,000 IU per day or as directed on the label.
7) vitamin C. Vitamin C is an antioxidant and a water soluble vitamin which means your body flushes out any excess in your urine. It is best to take divided doses throughout the day. Some experts recommend upto 6000 mg daily.
Dosage: 1000-3000 milligrams per day or as directed on the label.
8) vitamin E. Vitamin E improves heart function and also acts as a blood thinner, use with caution if you are taking prescription blood thinners. Only use the d-alpha-tocopherol form of Vitamin E.
Dosage:(d-alpha-tocopheral) 100-200 IU per day or as directed on the label.
9) Garlic.
300-1200 mg of garlic or aged garlic a day.
See Garlic health Benefits Final thoughts:
These daily doses of hypertension supplements are standard doses recommended by members of the scientific community, including Phyllis Balch. Balch's book: "Prescription for Nutritional Healing" is a must read for those interested in looking after their own health.
Please note that it is always advisable to consult with your doctor or healthcare provider when adopting a new supplement plan.
For those that are interested in delving further into nutrient research please visit www.nutrisearch.ca. Lyle Mc William and his team provide fascinating detailed research information on these key hypertension supplements, check out the special reports section and his latest book: "Comparative Guide to Nutritional Supplements".
Allow time for supplements to work.
Supplements are generally taken with food. The natural digestive process aids in supplement absorption.
Unfortunately not all supplements are created equal. Every manufacturer believes their supplements are the best. Do your research and select quality supplements from a reputable source. There are some manufacturers that are better than others, personally I recommend ProGrade supplements for my clients.

www.getprograde.com

Lower priced supplements can mean lower quality and higher levels of fillers and undesirable ingredients.
When buying minerals such as calcium, potassium or magnesium,researcher and biochemist, Lyle Mc William,recommends buying chelated minerals. Chelated minerals are minerals that are bonded to a protein molecule to increase absorption.
A hypertension supplement program combined with a healthy diet and a regular dose of 'fresh air', will help you take control of your blood pressure and restore your body to its natural state of good health. Wouldn't it be nice to live longer but healthier?
As Lyle Mc William states:
"Supplementation is your personal health insurance plan that will help you age gracefully."

Additional reading from my affiliates at ProGrade Nutrition:

The Next Powerhouse for Heart Health


Increase Your Antioxidants to Reduce Your Risk Of A Stroke


Top 5 Food Sources of Omega 3 Fats


A Powerful Way to Reduce Heart Failure Symptoms






Back to: hypertension supplements