Magical Garlic Health Benefits and Garlic Recipes for a Healthy Heart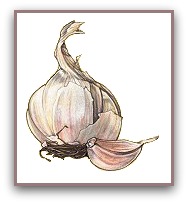 Last weekend I went to the local Garlic Festival to discover more about garlic health benefits and to find out whats new with my favourite flavouring. Imagine my surprise to find not only roasted garlic and garlic oil recipes, but also garlic ice cream, garlic fudge and garlic soda recipes being offered by all sorts of vendors.
Garlics popularity has clearly increased as garlic health benefits ,especially for heart health and lowering blood pressure, have become apparent through more than 1200 published scientific studies. Research has shown that garlic works on heart health in many ways:
- anticlotting
- antiplaque
-reduces high LDL (bad) cholesterol and raises HDL (good) cholesterol
-lowers blood pressure
-antioxidant activity
-lowers homocysteine levels

Research has also shown that garlic health benefits include: helping boost immunity, blocking the growth of cancer cells, relieving asthma, reducing high levels of blood sugar and preventing conditions associated with aging. Garlic keeps us healthy and strong.
For maximum benefit, try and eat at least 3 cloves or more a day to help thin your blood and lower your blood pressure,(plus garlic may have an added benefit: keep people away which may also lower your stress levels!)
Garlic health benefits are due to allicin , a sulphur compound found in garlic which has powerful antibiotic properties. Garlic also contains many valuable other nutrients, including calcium , potassium, magnesium , vitamin C and selenium. North Asian cultures are the heaviest users of garlic at over 50 lbs per capita compared to North Americans at less than 3lbs.
Unless you have taste buds made of asbestos, its difficult to eat a lot of raw garlic at one sitting, garlic and high blood pressure studies illustrate the importance of eating more of this bulb. Garlic health benefits have been documented throughout the centuries. Here are a few easy garlic recipes you can use: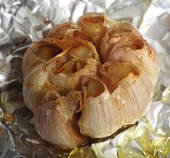 How to roast garlic:
Roasting garlic gives the bulb a sweet, caramelized taste, it delivers just a hint of heat rather than a full blast. To roast garlic, cut the top from the garlic bulb to expose just the tips of the cloves.
Rub the bulb lightly with a little olive oil and wrap in a piece of aluminium foil. Leave some air spaces around the bulb, but seal the edges tightly. Roast in a 350 degree F oven for about 45 minutes, or until very tender. Remove from the oven and let cool slightly.
To eat this roasted garlic recipe, simply squeeze the root end firmly to push the cloves out of their skins, we generally eat a bulb of roasted garlic each.
You can spread the roasted garlic on crackers, add to vegetables, sauces, soups or just serve as a side with your dinner. If you're not eating it right away, you can refrigerate it in a tightly covered container for upto a week. This roasted garlic recipe is very easy to make and tastes delicious.
Garlic Chicken:
Here is a video of chef with a delicious recipe using 20 cloves of garlic!
Garlic Oil Recipe:
Roasted garlic oil is easy to make, just pour some olive oil in a saucepan and add lots of peeled garlic cloves, slightly crush the cloves with the side of a knife before adding them to the oil in order to release more flavour. Let simmer on low heat until the cloves turn golden brown about 15 minutes).
I generally use a bulb of garlic for every 1/2 cup of olive oil but feel free to adjust these quantities.
Please note: Always make roasted garlic oil fresh and use as soon as possible, it can be kept in the fridge but must be used within a week. Never store at room temperature due to possibility of botulism developing.
Garlic marinade:
This aromatic marinade from the book 'The Garlic Cure' is perfect on fish, steaks, shellfish or poultry:
Ingredients:
3/4 cup olive oil
3 cloves garlic, crushed ( add more cloves if you like)
1/4 cup of wine vinegar
1 tsp. oregano
sea salt and freshly ground pepper to taste
1 tsp. worcestershire sauce

Mix all ingrdients well in a jar. Store in the refrigerator.
VARIATION #1: To add a real barbecue flavour to chicken, mix in 1/4 cup of low sodium ketchup or salsa and 1/4 cup of low sodium soy sauce. VARIATION #2: For a sweeter marinade add 1/4 cup of honey and 2 Tbsp. Dijon-style mustard.
Garlic soup:

Ingredients:
2 Tbsp. olive oil
1 cup of chopped garlic
1/4 cup chopped shallots (small onions)
2 medium carrots, chopped fine
1/2 cup whole grain flour
1 cup red wine
1 gal. chicken stock
2 bay leaves
2 tbsp. minced parsley
1 1/2 cups lentils
sea salt and freshly ground pepper to taste
In a large stock pot, heat the olive oil over medium heat and saute' the garlic, shallots and carrots until tender.
Add flour and mix well. Add the wine and stir until smooth.
Add the stock, bay leaves, parsly and lentils.
bring the mixture to a boil and simmer, covered until lentils are tender (about 25 minutes).
Final thoughts:
Garlic health benefits are extensive, garlic can be added to many foods such as salad dressings, tomato sauces, stews,stir frys, roasts, pasta, grains, rice, vegetables, soups, dips and spreads.
If you do not like the taste of garlic consider taking a quality garlic supplement such as Kyolic Aged garlic Extract.
I once worked for a company that distributed natural health products to retailers, we actually carried the line of Kyolic garlic products. I remember being asked by my boss to pick up a gentleman named Charlie Fox from the local airport, he was apparently a spokesperson for the Kyolic Garlic company and was going to educate us on the benefits of garlic. Charlie was an amazing character, he was well into his 70s and had just authored a fascinating book called " The Garlic Cure".

Charlie told me that when he was a young boy he worked for his fathers floor wax business breathing in toxic fumes daily, particularly carbon tetrachloride which is one of the most potent cancer causatives.

Charlies family all died of cancer and Charlie himself became deathly ill, he adopted a raw food diet, drank lots of pure water and ate an abundance of garlic. Charlie is super energetic and believes that garlic health benefits are entirely responsible for his incredible stamina and good health today.
See below some of the Kyolic garlic products Charlie was so passionate about:
Vist my Amazon store for more recommended books and heart healthy supplements.
---
Back to top of page: Garlic Health Benefits


---