7 Day... Heart healthy Diet And Weight Loss Meal Plan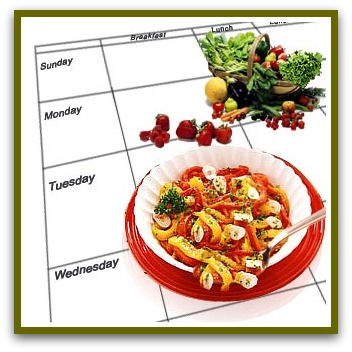 Many visitors have requested a typical 7 day heart healthy diet plan with simple meal ideas.
It seems that we are often told what to eat by the experts but are still unsure how to put it together.
As a nutritionist, this is what I do every day... I customize meal plans to maximize nutrition in order to restore the body to health and help you lose unwanted pounds.
Like the DASH DIET this heart healthy diet plan is naturally low in sodium, saturated fats and sugar, but high in the heart healthy minerals: calcium, magnesium and potassium. Results are almost immediate as the flood of good nutrients begin to increase your energy levels and work on healing your body and yes... reducing your blood pressure.
All these recipes can be found on the recipe index page.
DAY 1
Breakfast: Very Berry Smoothie
Lunch: Chicken Ceasar Wrap
Snack: Hummus and Veggies
Dinner: Salmon Bake

Day 2
Breakfast: Mushroom, Pepper and Feta Omelet
Lunch: Chicken grapple Salad
Snack: Yogurt and Berries
Dinner: Turkey Chili
Day 3
Breakfast: Strawberry, Banana Smoothie
Lunch: Salmon, cream cheese crisps
Snack: Freedom foods
Dinner: Chicken Stir Fry

Day 4
Breakfast: Yogurt and pineapple
Lunch: Tuna crisp and broccoli soup
Snack: Apple, almonds and cheese snack
Dinner: Spaghetti Squash Dinner

Day 5
Breakfast: Crystals green Supreme Smoothie
Lunch: Berry Chicken Salad
Snack: Soy nuts
Dinner: Baked vegetables with lemon and herb Mackerel or Tilapia fish

Day 6
Breakfast: Fiber 1 cereal with berries, flax seed, skim milk
Lunch: Greek Salad With Chicken
Snack: Homemade Trail Mix
Dinner: Turkey leek and Sweet Potato soup/dinner

Day 7
Breakfast: Oatmeal with protein powder, berries, flax seed and skim milk
Lunch: Egg salad crisp, piece of juicy fruit
Snack: Sliced veggies (celery, cucumber, red pepper, mini carrots), 7 almonds, 1 oz low fat cheese
Dinner: 5 -6 oz Lean Beef Steak, ½ sweet potato, Caesar Salad

Additional Snacks
This meal plan gives you a basic idea on what you can eat to lose weight and improve your heart health. If you are a male you will need 2 balanced snacks a day, if you are female and over 250 lbs you can also add an additional snack. Otherwise if you are hungry, I would munch out on the freedom veggies which are generally high in nutrients but very low in calories.
Fluids:
Fresh quality water, how much do you need? Divide your weight by 2 and that is the number of ounces you need per day. EG: If you weigh 200lbs you need to drink 100 oz of water per day.
Tip: Find yourself a nifty water bottle, if it holds 20 oz that means you need to fill it up 5 times throughout the day!
Remember water keeps you hydrated, feeling full and helps flush out fat. Start your morning with a large glass of water and 3-4 fresh squeezes of lemon juice. This will help cleanse your digestive tract and alkalize your body, it is very refreshing.
You can also drink a variety of herbal teas so long as they haven't got sugar added.
Supplements
Combine this heart healthy diet plan with some powerful supplements for even greater benefits. Print off your own meal plan template and use the recipe index to design your own plan. Most importantly, just get started on the heart healthy diet and give your heart some lovin'....
Printable versions:
PDF: 7 Day meal Plan
PDF: Shopping List for 7 Day meal Plan
PDF: Freedom Foods List